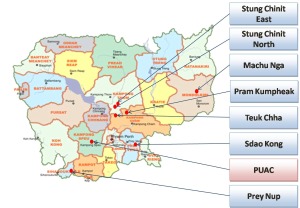 The ASIrri team opened its office in Kampong Thom province in July 2009 and decided to present itself as the Irrigation Service Center (ISC).
During the first months of project operation, the team started implementing an initial diagnosis to assess the existing FWUC capacities and service needs in Kompong Thom province. The choice to start activities in this province was based on several reasons and assumptions:
Most of the GRET and CEDAC team were living in this province, they were recruited locally for the Stung Chinit project (SCIRIP)
The team was already supporting the FWUC of Stung Chinit and this FWUC was requiring further support
The collaboration with PDOWRAM was good and its director supported the idea of the project
Many FWUC were registered in this province and the team assume that several FWUC and schemes had some potential,
However, this last assumption was not confirmed by the diagnosis: most of the schemes were not operational and the FWUC inactive. Beside Stung Chinit, the potential for providing services was low. The ISC decided to extend its target area first to the neighboring districts in Kompong Cham province and then, in other provinces according to opportunities.
Since 2009 until 2011 the ISC has been working mainly within 4 provinces: Kampong Thom, Kampong Cham, Prey Veng and Preah Sihanouk provinces. The ISC operated on demand also in Kampong Speu with PUAC and in Mondulkiri for JICA.
During the three years of this pilote project 7 FWUCs and 1 FO have received services from the ISC. Many other FWUC and schemes have been studied (initial diagnosis, FWN members), but no service has been delivered to them so far.