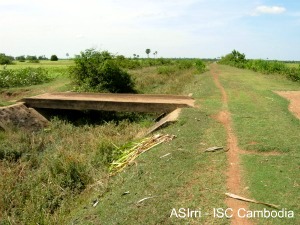 Investing in irrigation
According to MOWRAM, there are more than 2,500 irrigation schemes in Cambodia. Most of these schemes were constructed during Pol Pot regime and are today in nearly total disrepair.
Agriculture is a key sector of the Cambodian economy and improving its productivity is essential to address rural poverty. for this reason, increasing reliable water availability figures amongst the government development startegic priorities. Since the 1990s, the Royal Government of Cambodia (RGC) is heavily investing in developing the country's irrigation infrastructures with the support of international partners (ADB, AFD, JICA, IMF, etc.).
Nevertheless after their rehabilitation, many schemes are not operating properly due to both design and management problems. The effective irrigated area is often much smaller than planned. Maintenance is very insufficient and after few years, infrastructures are in very poor condition. In consequence, the economic valorization of infrastructure investments is limited.
The management transfer to the FWUC
Since 2000, through the Participatory Irrigation Management and Development (PIMD) policy, RGC - MOWRAM is transferring the scheme management to Farmer Water User Communities (FWUC). In 2010, there were more than 350 FWUCs officially registered by MOWRAM.
The FWUC are in charge of:
Institutional management (members registration, committee election, etc.)
Scheme operation and water sharing between users
Infrastructure maintenance
Irrigation Service Fee (ISF) collection and financial management
Why to develop services?
FWUC often meet difficulties beyond their technical capacities and, occasionaly, they require some technical support from professionals, for example to help them with financial management, engineering, database updating, etc.
Based on their experiences, GRET and CEDAC consider that there is a need for specific services to strengthen FWUC and make them able to manage their scheme in a sustainable way.
ASIrri vision
A pool of professionals, with a practical experience of irrigation management issues, provides affordable and quality services to FWUC and other Farmer Organizations.
En savoir plus